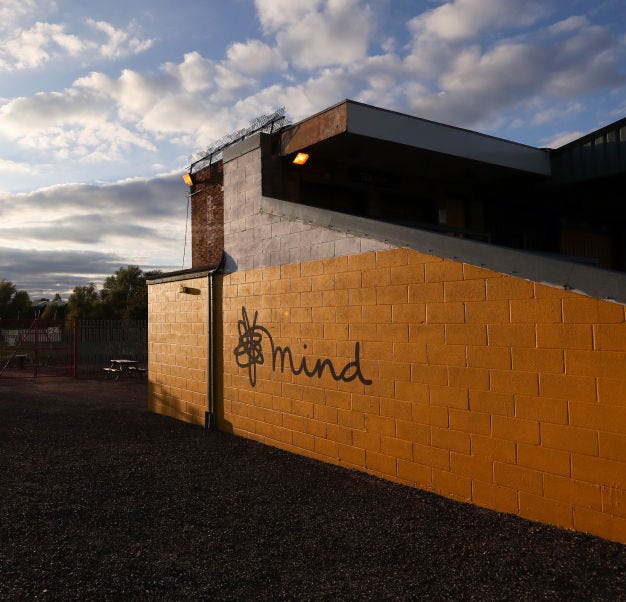 Catherine IvillGetty Images
In 2009, mental health charity Mind published 'Get It Off Your Chest', a report on the mental health challenges faced by men. Now, 10 years on, the charity published a follow-up report looking at how the changes in both the cultural climate and men's attitudes have affected these challenges.
In light of the coronavirus pandemic and an economic decline, the report highlights that now, more than ever, "it is important to make use of this research to inform the development of future support for men's mental health".
It's not all doom and gloom, though — there are a number of positives we can take away from the report.
Firstly, men are more likely to take steps to address their mental health than they were 10 years ago, according to Mind's survey of over 2,000 men and women. Men are now four per cent more likely to buy a self-help book and 10 per cent more likely to look up information online than they used to be.
There is also evidence to suggest men are more willing to talk about their mental health. According to the survey, they are 5 per cent more likely to talk to either a friend or family about it.
The report suggests that "traditional masculine values such as self-reliance and stoicism" play into a common conception that talking about mental health is a form of weakness.
However, there appears to be a growth in the number of men seeking professional help to support their mental health – they are "almost three times more likely to see a therapist when worried or low than in 2009".
"In 2009 there was a large gap between men and women's willingness to see their GP if they felt low for two weeks or more; with only 23 per cent of men saying they would be likely to, compared to 33 per cent of women," reads the report. "This time around, 35 per cent of both men and women said they would be likely to consult their GP."
Men also seem to be more comfortable talking about mental health. 40 per cent of men said that counselling would be their preferred treatment method if they were seeing their GP about feeling low. This is up from 23 per cent in 2009.
"Around a third of men in 2019 (34 per cent) would be likely to talk to their friends about their problems if they were feeling worried or low for two weeks or more," the report continues. "This is an increase of 5 per cent since 2009". This suggests that men are more comfortable discussing mental health with one another than they used to be.
This content is imported from YouTube. You may be able to find the same content in another format, or you may be able to find more information, at their web site.
Mind believes this reflects how "notions of masculinity are starting to change, as it becomes more acceptable to ask for help".
Finally, men are looking for more positive ways to help one another with their mental health struggles. 29 per cent of men said that exercise would be their preferred treatment for feeling low or anxious, which is up from 23 per cent in 2009. Men are also less likely to take a male friend to the pub if that friend confided in them that they were worried or low (down from 29 per cent to 22 per cent).
According to a study from the department of health, "by increasing your activity levels from doing nothing to exercising at least three times a week, you can reduce your risk of depression by up to 30 per cent".
If you are feeling low or worried and think you may be struggling with your mental health, please call Samaritans on 116 123
---
Sign up to the Men's Health newsletter and kickstart your home body plan. Make positive steps to become healthier and mentally strong with all the best fitness, muscle-building and nutrition advice delivered to your inbox.
SIGN UP
For effective home workouts, uplifting stories, easy recipes and advice you can trust, subscribe to Men's Health UK today
SUBSCRIBE
This content is created and maintained by a third party, and imported onto this page to help users provide their email addresses. You may be able to find more information about this and similar content at piano.io