For about a year now, we've all heard about the dangers and costs of COVID-19. While some people at home might be numb to the constant news on the pandemic, doctors and nurses on the front lines are still fighting the virus and dealing with unimaginable stresses in order to save lives. One nurse has written a public letter articulating just that, and it's drawn plenty of attention online.
Vicky Neville is an ICU nurse in the U.K. and has been for 10 years. Though she has plenty of experience as a medical professional, her letter outlines how different the circumstances of the COVID pandemic are from past days on the job.
The letter, which was penned for the website Nursing Times, begins with Neville explaining what her work situation was when the pandemic really began to get out of control. She'd planned to take nine months off of work to stay with her newborn son, but decided to head back to work five months early, when she heard of the strain on ICU nurses fighting the illness.
Neville then runs through the technical workings of her job, from caring for people severely ill on ventilators, to rationing her own water so she doesn't have to use the bathroom often during her 12-and-a-half-hour shift. She shares details about what it's like to lose patients, which make it obvious that the role of a nurse is not just medical care, but personal care, sometimes even in someone's final moments.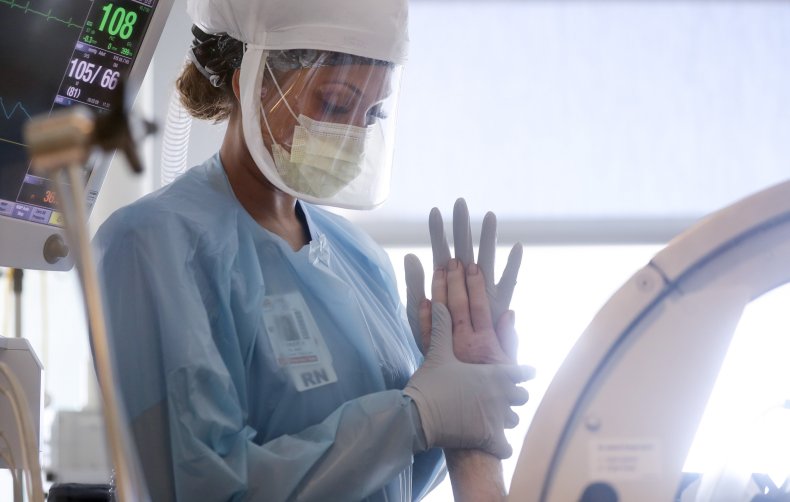 When the wife of a patient who was dying said she couldn't come into the ICU because she herself was suffering from COVID, Neville promised to stay with the man in the ICU. "CPR for 15 minutes, we got him back; he arrested again, no CPR this time, we got him back but the third time it was too much for his body and he died. I held his hand through double gloves, I placed a knitted heart on his chest, my visor steaming up from tears in my eyes. He was 57, the same age as my mum," she wrote.
It was Neville who then called the wife. "She sobbed, I explained how we did everything and I was so sorry for her loss… quite possibly the worst call I've ever made," she wrote. "She thanked us for trying our best, which broke my heart, as we couldn't save him and she was alone. I couldn't hold her hand or comfort her like we could pre-Covid-19."
Near the end of the letter, Neville wonders about the toll that the job and stress of COVID are taking on her own life. "I'll [mourn] the dreams I had for my son's first year and I'll question my choices but not at the minute," she wrote. "I think anxiously if my own wedding next year may get cancelled and the thoughts of how much more my body can physically and mentally take. But not today, the second wave is in progress and I need to be strong enough to fight for a little bit longer."
Neville's letter has been making the rounds online. Piers Morgan shared the essay in a tweet on Sunday that's since gained nearly 3,500 likes. Others followed and voiced respect for Neville's commitment to care, as well as praise for healthcare workers everywhere.