Online shopping has seen a significant boost in sales amid the COVID-19 pandemic, as 44 percent more people made purchases online between Thanksgiving and Cyber Monday this year, according to the National Retail Federation (NRF) and Prosper Insights & Analytics.
The survey collected information from 6,615 adults and found that an estimated 186.4 million shoppers bought holiday gifts, food or decorations during the five-day shopping period.
The coronavirus pandemic paved the way for record breaking online-only sales, with a total of 95.7 million shoppers making purchases online. During Small Business Saturday, online shoppers rose 17 percent, for a total of 68 million.
On Thanksgiving Day, the number of in-person shoppers dropped by 55 percent compared to last year, while those on Black Friday dropped by 37 percent, the survey found.
According to the NRF Chief Executive and President Matt Shay, 57 percent of holiday shoppers said they planned to purchase more items online due to the pandemic.
"As the coronavirus cases have spiked across the country over the past few weeks, we continue to see consumers prioritize their personal health and safety as well as public health and the health of the communities in which they live and work," Shay said during a press call. "They continue to adjust their shopping behavior online to avoid large crowds."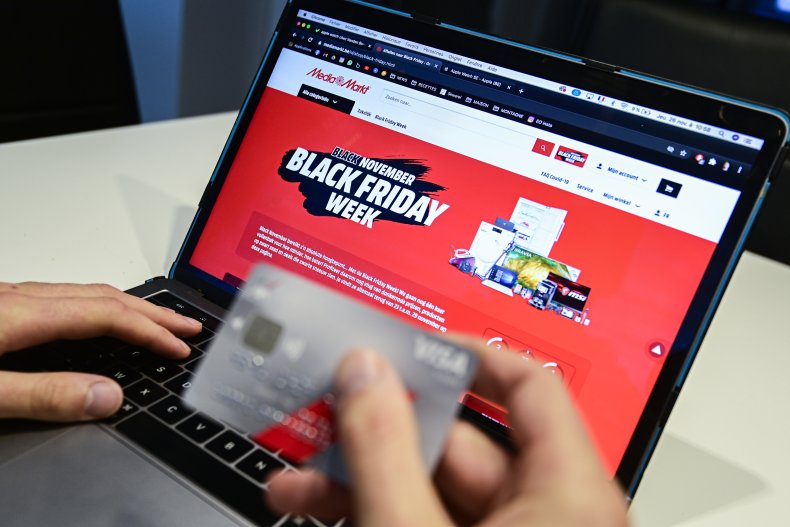 In total, the survey found that less people participated in holiday shopping this year than in 2019, when 189.6 million people purchased items. But 2020 had an overall higher shopping turnout than the 165.8 million people who shopped in 2018.
But the pandemic didn't stop people from feeling festive and buying goods. 51 percent of people said that because of the pandemic, they were more interested in decorative and seasonal items, while 77 percent said they were more interested in supporting small businesses.
Shay added that the slight decrease from last year was largely because people began holiday shopping earlier in the season.
"As expected, consumers have embraced an earlier start to the holiday shopping season, but many were also prepared to embrace a long-standing tradition of turning out online and in stores over Thanksgiving weekend to make gift purchases for family and friends," he said.
Average spending for holiday-related purchases was $311.75, which was down about $50 from last year. Top purchases included clothes at 52 percent of those surveyed, toys at 32 percent, books/music/movies/video games at 29 percent, gift cards/certificates at 29 percent, and electronics at 27 percent.
The NRF predicts that this year's total holiday spending will increase between 3.6 percent and 5.2 percent from last year, landing somewhere between $755.3 billion and $766.7 billion.
From November 1 through December 31, the group expects online shopping to increase by 20 or 30 percent.
"The growth in online activity this year was significant, particularly for Black Friday and Saturday shoppers," Prosper Analytics Executive Vice President of Strategy Phil Rist said.
"With the start to the holiday shopping season continuing to move up even earlier, consumers will further utilize these channels."
Newsweek reached out to the NRF for additional comment, but did not hear back in time for publication.