The image of a Black man carrying a white man over his shoulder to safety as violence erupted during a counter-protest against the Black Lives Matter movement was seen around the world. It was a moment of unity amid increasing divides between those who supported the anti-racism movement and those who saw it as an attack on all white people.
In the days after personal trainer Patrick Hutchinson saved the white counter-protester – a far-right English Defence League (EDL) supporter who followed former EDL-leader Tommy Robinson's call to "defend" memorials with links to Britain's slave history – he was hailed a "hero".
Hutchinson is uneasy with the term and keen to highlight that he is not a Black Lives Matter activist, but merely a concerned father and grandfather, who wanted to ensure young black people like his own children and grandchildren weren't being pulled into conflict.
"Anyone who knows me knows my most important role is as a father and a grandfather and the most important people to me are my children and my grandchildren," Hutchinson tells Newsweek, almost six months on from the day his photograph became a defining moment of the summer's anti-racism protests.
Peaceful protesters took to the streets to call for justice for the horrific deaths of black men and women at the hands of police. The murder of George Floyd and Breonna Taylor in the U.S. may have been the spark but in the U.K., it highlighted the institutional racism within Britain's police system, the nation's shameful role in the slave trade and the every day systemic racism Black and minority ethnic communities are subject to on British streets. It also opened many up to white privilege, perhaps for the first time, and saw people of all ages, ethnicities and backgrounds joining marches to call for change.
It is this united force that Hutchinson wants to encourage. His first reaction to going viral, and now the title of a new book documenting his life and why society must change for future generations, was simple: "It's not black versus white, it's everyone versus racism."
"I hope that if there's one thing you can take away from that picture, its unity," Hutchinson says. "It doesn't matter to me the color of a person's skin or even their views, if they're a person in need then I will save them and I would do it again. We don't have to be friends afterwards, but I'm there to help anyone in need. If we were all like that, I think society would be a better place."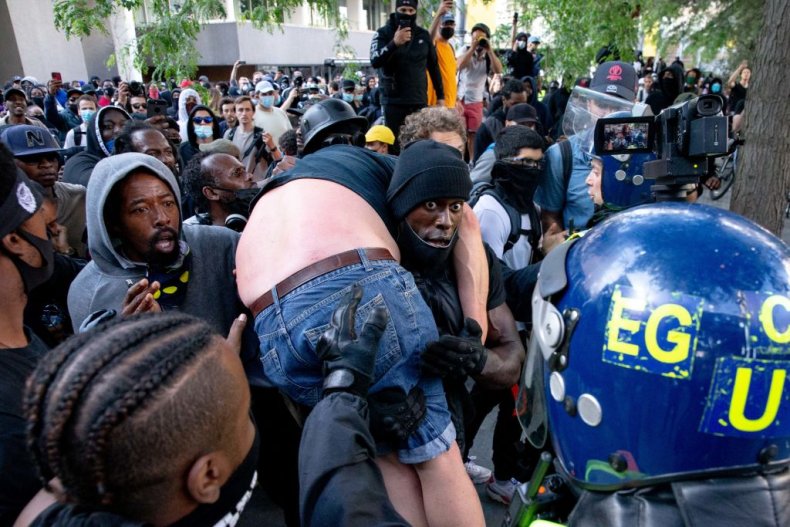 Dad-of-four Hutchinson, 50, says being raised by his mother and grandmother has heavily influenced the person he is today. He grew up on a council estate in Battersea, southwest London, just across the river from Stamford Bridge, the grounds of Premier League football club Chelsea. Hutchinson's first explicit experience of racism – not that he knew what it was called then – was when he was just a child, playing out on his bike.
At the time hooligan group the Chelsea Headhunters were arguably at their peak, one of the most notorious mobs in English football. In 1999 they were infiltrated by BBC reporter Donal MacIntyre, who revealed and confirmed racism within the group, with a high ranking member who had previously been imprisoned on the basis of possessing material related to the KKK.
"When I was younger I didn't understand that it was what we call racism, I just knew that I was treated differently in certain aspects of my life," Hutchinson says. "I was on my bike riding and I must've got in the way of one of these Chelsea football hooligans and they pushed me off my bike and called me something, said the word 'black'. All my friends rallied around me and helped me get back on my bike and my little white friend said 'ah don't worry Pat, that's just the Chelsea headhunters, they're racists'.
"That's probably the first time I'd heard that word. Later on, you'd hear your friends say racist slurs about other Black people, and then turn around and say 'but you're alright Pat, you're not one of them'. So it was a constant, when I was growing up, if it wasn't hooligans it was your own friends.
"As a kid, I didn't know how I felt about it, I just knew it was wrong. Racism back then was different to what it is now, now it's covert, now it's unconscious bias and now it's systemic. You can't tangibly point at it anymore. There are pockets of it, you hear about it, but now it's in the fabric of society that we all grow up in."
When Hutchinson left college he went to work in IT in the City of London. He worked there for almost 25 years but found he struggled to progress, noticing he was being held back when his white counterparts were not. He eventually quit and became a fitness trainer.
Hutchinson says he isn't an expert in racism, he can only go off his own experiences of it. He is also aware of the role of class in holding people back, but hopes by listening and explaining his situation to white working-class people, it will benefit everyone. "You have to be willing to have uncomfortable conversations," he says. "You try to tell the white working-class person who has worked really, really hard all their life to have their house and their car and don't feel like they have had a leg up, that they've got privilege. So it's about saying that, you may have class holding you back, but Black people have class and race fighting against them.
"That's all we're trying to say, we are not disregarding what that really hard-working white person has gone through, we need them to see that we're fighting the same battle."
On June 13, 2020, Hutchinson joined Jamaine Facey, Lee Russell and Chris Otokito, a group of friends and fathers, who formed "Ark Security" to protect young Black protesters from getting caught up in violence at demonstrations. On the day of the protest in question, the group was acting as "overseers" to make sure those who needed help were taken safely to emergency service workers.
"We attended the demonstration in unity, with a clear purpose to be role models, and to use our past life experience and wisdom to prevent the young people in attendance from making foolish choices which could so rapidly change their lives," Russell later said.
Hutchinson wasn't originally planning on going as he was babysitting his grandchildren at the time but says they were eventually the thing to push him out of the door. "A couple of my friends had been at protests previously and one of them, Jermain Facey, had witnessed the police officer who had fallen off her horse," Hutchinson says. The officer was taken to hospital after she fell, surrounded by crowds of demonstrators. The horse bolted, causing chaos that was captured on mobile phones and spread online.
"[Facey] said he didn't see any older, wiser individuals there to protect these young kids. And he put a call out to us, everybody that he knew, to make sure we're at the next one," Hutchinson says. "It just so happened that Tommy Robinson put a call out a day before the protest to protect statues, statues that were already boarded up and didn't need protecting, but anyway."
The far-right Islamophobic group EDL first appeared in 2009, set up by Stephen Lennon – who goes by the name Tommy Robinson. Although it claims only to oppose Islamic extremism, it targets the entire Muslim community and its actions "deliberately seek to whip up tensions and violence between Muslim and non-Muslim communities", according to charity Hope Not Hate.
Robinson left the group in 2013, saying it had become too extreme. Supporters of the group were convicted in 2011 of plotting to bomb mosques. Member numbers have dwindled since, but Robinson continues to incite protests from followers online, often clashing with anti-fascist demonstrators.
When a friend came to collect Hutchinson on the day of the EDL protest, he explained his reasons for staying home but says he realized that "these are my brothers and one less man is one less man to protect and support each other. I looked at my grandson and I thought, do you know what, I'm doing this for you as well because this is a bigger calling here, this is a whole movement and this is for you."
Hutchinson and his friends turned up to find fighting had already broken out between far-right protesters, police, BLM protesters and even innocent members of the public. "From what we could see, it was quite harrowing, it was horrible. We just wanted to try and calm things down," he says. "It's the youngsters we were really concerned about, we knew that some of them can be quite volatile and in that herd mentality they can do silly things."
In the middle of the tussle, he spotted a white counter-protester, who had ventured into the crowd with friends, being dragged by young Black protesters and thrown on the steps near to London's Royal Festival Hall. Hutchinson scooped him up, put him over his shoulder and started marching towards the police with him. An image of the rescue captured by Reuters news agency photographer Dylan Martinez made global headlines.
The man was Bryn Male, 55, a former British Transport Police officer. "I'm not a racist – just a passionate Brit," he later told The Sun newspaper. He said Hutchinson saved his life and that he would "love to shake his hand". The pair have not spoken since the protest.
Hutchinson describes finding out Male was a former police officer as "like a mic drop moment". "To have someone like that, was down there protecting statues when Black people are just trying to have a peaceful march demonstrating they want an equal society, to have him be an ex-police officer, it just goes to show what we're up against," he says.
"I see the younger generation as really stepping up to the plate. My generation, my mother's and my grandmother's generation, were a lot more accepting of racism, a lot more docile and just accepted that's the way things were.
"The younger generation, they're just not going to have it. They want to be treated equally and fairly and they're not going to take it lying down. I just want it to be done peacefully and properly, and violence doesn't need to be part of this thing at all. If everyone jumps on board we can do it together."
The past six months, Hutchinson says, have been "more than a whirlwind – a tornado" and he is determined to use his new-found fame to advocate for positive change.
As well as his book, Everyone Versus Racism: A Letter to My Children, written alongside Sophia Thakur, Hutchinson has set up a charity with his Ark Security friends, United To Change and Inspire (UTCAI), to fight racial inequalities.
The charity is working with the Met Police to make changes to root out systemic racism, as well as in schools, working with young people. "We see ourselves as the glue between the grassroots – children, and young offenders in prison, trying to help them with mentoring – and those who have the power to make changes, so going into Parliament and discussing policy, and going into the Met," he says.
Ultimately he hopes his work, and that viral picture, will be a rallying cry for everyone, from every ethnicity, to start listening and learning about the state of racism today – and to join efforts to eradicate it.
"There's no changing this thing by ourselves, Black people can't eradicate racism. We need our white counterparts onside," Hutchinson says. "We need everybody onside."