Auction Action In Cleveland, Ohio
CLEVELAND, OHIO – Competition on a portrait of Berniece Singer by her husband, Clyde Singer (Ohio, 1908-1999) was stiff. Two online bidders battled against two phone bidders and several people in the auction room, one from Medina, Ohio, who owned a portrait of the artist he hoped to reunite with the portrait. In the end, a phone bidding collector and friend of the artist from Detroit, Mich., outspent everyone else and paid $30,750, more than tripling its high estimate. It was the top lot in the Rachel Davis Fine Art October 23 sale.
"I was hoping it would sell somewhere in the estimate," Rachel Davis said after the sale. "I never expected it to hit the price it did. While Clyde Singer's works have been steadily climbing over the past years, the ones that have always commanded the most money were the New York Street scenes, this was a portrait of his wife." She noted that Singer had given the work to his dentist, Richard Robinson, who often accepted paintings in lieu of payment. The portrait of Singer's wife had descended in Robinson's family and was sold by his daughter.
Eight more works by Singer were in the sale: another three were consigned by Robinson's daughter and four by the family of Sara Schneider, who had been involved with getting the Canton Institute of Art (later the Canton Museum of Art) off the ground.
Another of the Robinson family's collection of works by Singer included "McSorley's Group," a 1965 oil on canvas board that measured 20 by 24 inches and depicted the interior of one of New York City's venerable taverns, McSorley's Old Ale House. The bar was a popular subject for American painter John Sloan, who Singer knew and emulated during his time spent at the Art Students League in New York. It brought $8,610, nearly three times its high estimate, and sold to a private collector in Ohio. "Pedestrian Corner," which had been consigned by the Schneider family, was done in 1975 and walked out the door for $6,150, also to a buyer from Ohio.
Davis noted that all of Singer's works would be staying in Ohio. "He's always been very popular here. He was born in Malvern, which is a small town, and studied at the Art Students League with (Reginald) Marsh and (Thomas Hart) Benton. He hated New York City and returned to Ohio, where he lived in Youngstown. He never went modern, and always painted local small scenes. His works have been slowly coming on the market and growing; the larger ones have always sold privately. The Butler Institute of American Art and the Canton Museum have given him retrospectives. There are a lot of great paintings in private Ohio collections. People in central Ohio actively pursue his paintings. He was a hometown boy done good!"
Another local artist in the sale was William Sommer (1867-1949), who was represented by nine lots. His oil on board titled "Pigs" brought the highest price, $17,220, which was a pleasant surprise to Davis, who said she "wasn't sure how much the subject matter of pigs would affect (the price)." It was bought by a collector from Medina, who had been the underbidder on Singer's portrait of his wife. Done in 1923, it was an early work for an artist who was born in Detroit but studied in Germany and worked as a lithographer in New York before he moved to Cleveland. He befriended William Zorach, whose portrait of Sommer was included in the sale and brought $4,613. Sommer was particularly prolific in watercolors; six were in the sale and realized prices from $984 to $1,968.
Davis has been selling ceramic works by Cleveland potter Claude Conover (Ohio, 1907-1994) since the early 1980s, when his vessels, or "bottles" as he called them, brought $100 at auction. She noted that his market has been climbing recently, with many works now going to buyers in New York City and Italy. She offered three of his pieces in her sale, all of which were bought by a trade buyer on the East Coast, for prices ranging from $8,610 down to $5,535. All prices surpassed their presale expectations.
Viktor Schreckengost, who was born in 1906 in Sebring, Ohio, was both a ceramicist and watercolorist; the sale had three of his plates and two of his watercolors. Leading the offerings was a "Danse Moderne" ceramic plate from his "Jazz" series, which had a flaw in its glaze that kept the price modest; it sold to a Cleveland collector for $4,613.
"He did very well, his castings are incredible. We've had him from time to time and his things occasionally come up in wildlife auctions," Davis said, referring to Cleveland raised Walter Matia (b 1953), who grew up birdwatching and duck hunting and spent summers working in the exhibits department at the Cleveland Museum of Natural History. Four works were offered in the sale, led by a bronze sculpture of a blue heron, done in 1999 from an edition of 36, which stood 18 inches tall and had provenance to the Vixseboxse Gallery in Cleveland. A buyer in Florida bagged it for $6,150. A pair of bronze curlews, done in 1988 and handled by the Vixseboxse Gallery, sold within estimate, for $2,829.
The sale witnessed a new artist record for Massilon, Ohio, born Charles Coe (b 1902), when "December" sold to a collector in Chicago, for $4,613, now the highest price on record for the artist. The oil on canvas depicted a snowy landscape and had been painted in 1932; it was exhibited a year after it was painted in the "15th Exhibition of Work by Cleveland Artists and Craftsmen Cleveland Museum of Art" and in 1939 at the Pennsylvania Academy of Fine Arts' "134th Annual Exhibition of Painting and Sculpture." Davis had been aware of Coe, who exhibited regularly at the Cleveland Museum, but with only one previous auction record, she had few comparable examples to base an estimate on. She priced it at $1/2,000 and said she was "surprised at the interest. I liked the painting; it was one of my favorites. We had interest from all over; it sold to a collector in Chicago bidding online."
The 382-lot sale was more than 88 percent sold and achieved $380,000.
"I was very happy with it overall," Davis said. "I had been a little concerned with traditional works from the Nineteenth and early Twentieth Century, but they held their own."
The next sale at Rachel Davis Fine Art is tentatively scheduled for December 3-4.
Prices quoted include the buyer's premium as reported by the auction house. For more information, 216-939-1190 or www.racheldavisfinearts.com.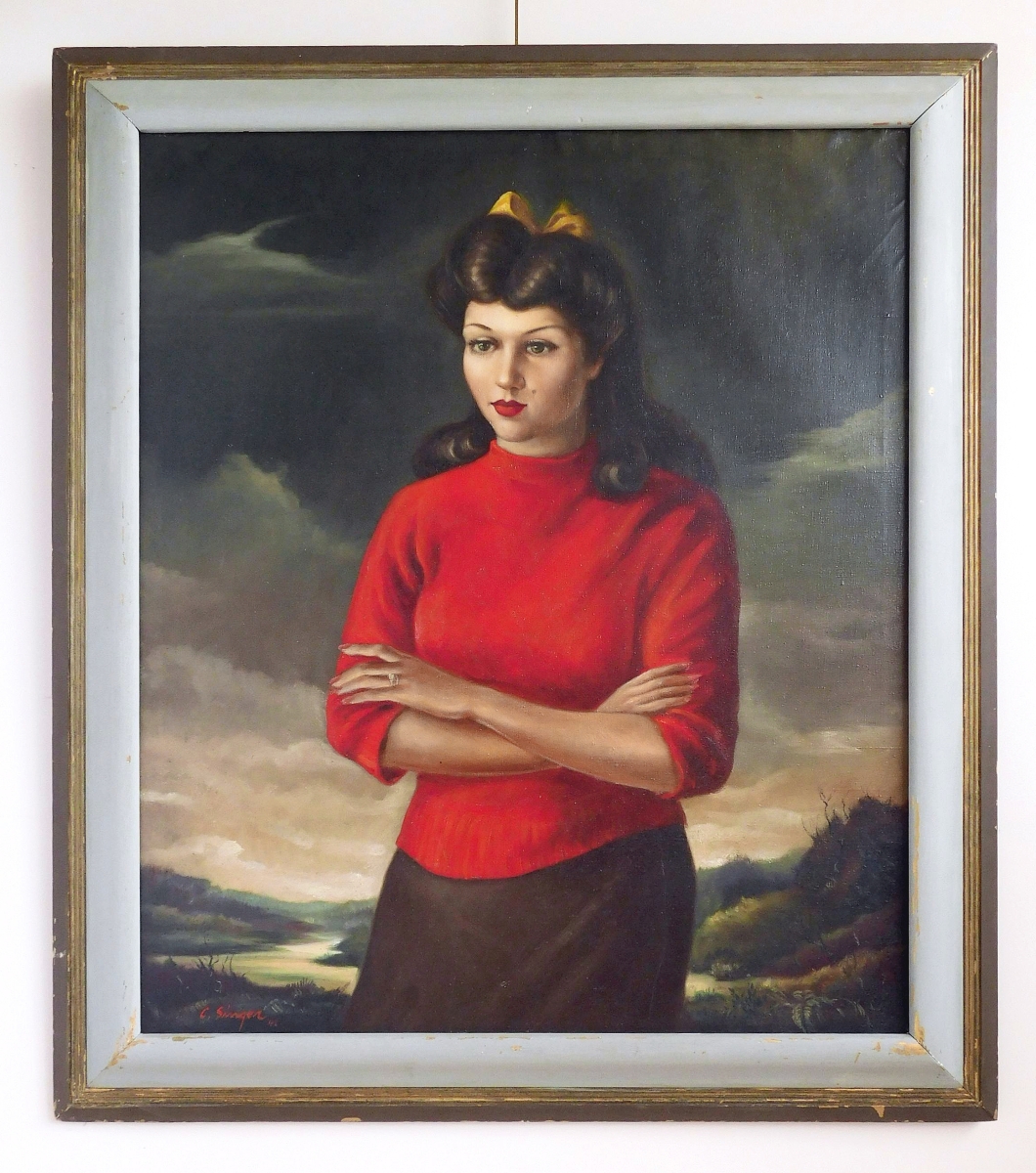 Leading the sale was "Portrait of My Wife" by Clyde Singer (Ohio, 1908-1999), which had been exhibited at an exhibition at Ohio University, Athens, in 1943 and descended in the family collection of Singer's dentist, Richard Robinson. Done in oil on canvas measuring 42 by 36 inches, it sold for $30,750 to a collector in Detroit, Mich., who outbid a Medina, Ohio, collector who owned a portrait of the artist ($6/9,000).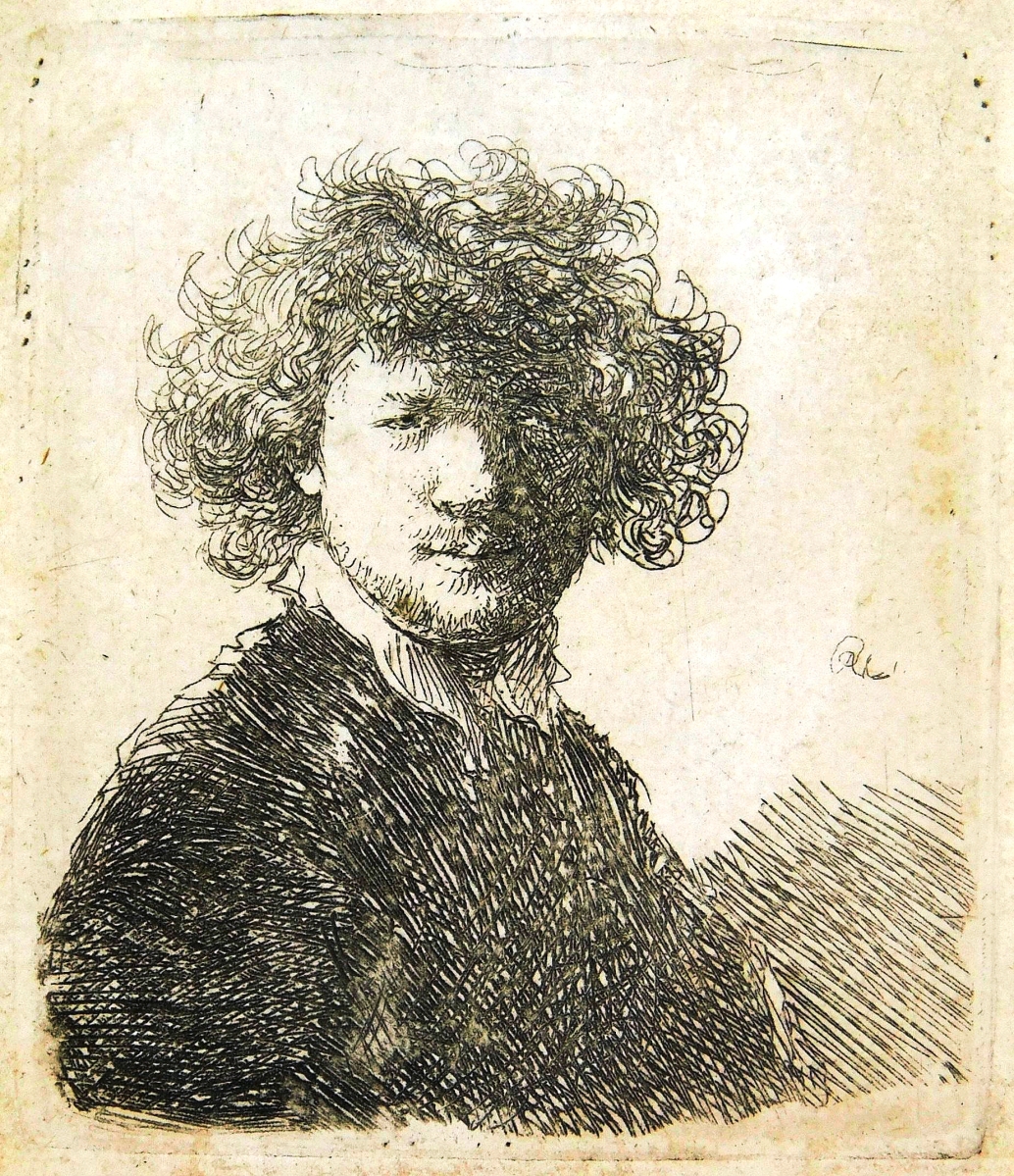 Two international phone bidders competed for "Self Portrait with Curly Hair and White Collar" by Rembrandt Van Rijn (Dutch, 1606-1669). The bidder from London outbid the one from Holland to take the 1630 etching for $27,060. It was a big price for a tiny work — it measured just 2- by 1- inches — and was the second highest price realized in the sale ($18/24,000).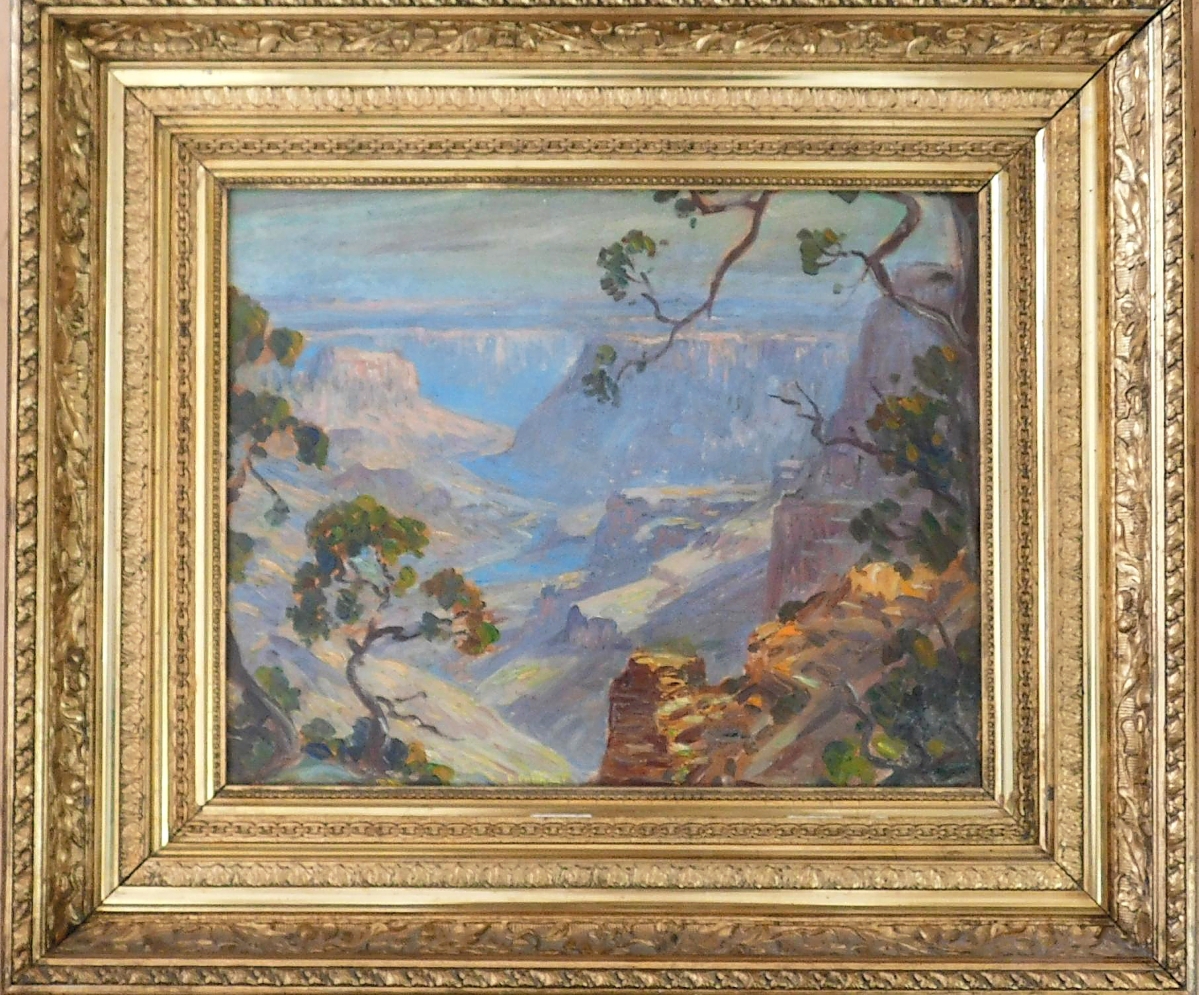 Edward Potthast's "Grand Canyon" will be included in a forthcoming catalog raisonné by Mary Leonhard Ran. The 16-by-20-inch oil on canvas, which had sold at auction in Cleveland in 1991, sold to a trade buyer bidding online, for $22,140 ($12/18,000).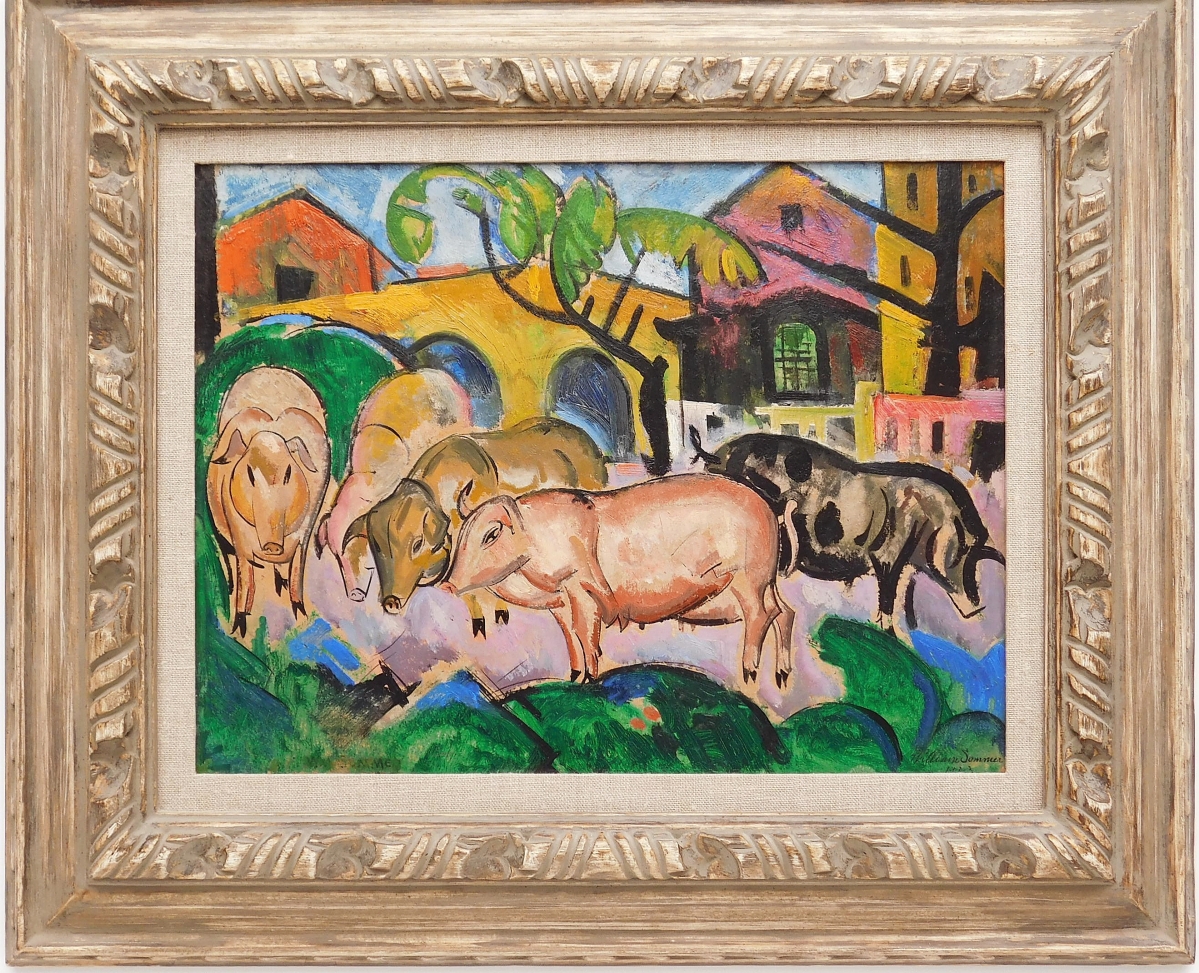 "Pigs" by William Sommer (American, 1867-1949) was done in 1923 and is a rare example in oil. It had provenance to the Joseph Erdelac collection in Cleveland and had been included in the Fifth Exhibition of Work by Cleveland Artists and Craftsmen, Cleveland Museum of Art in 1923. A Medina, Ohio, collector paid $17,220 for it ($3/6,000).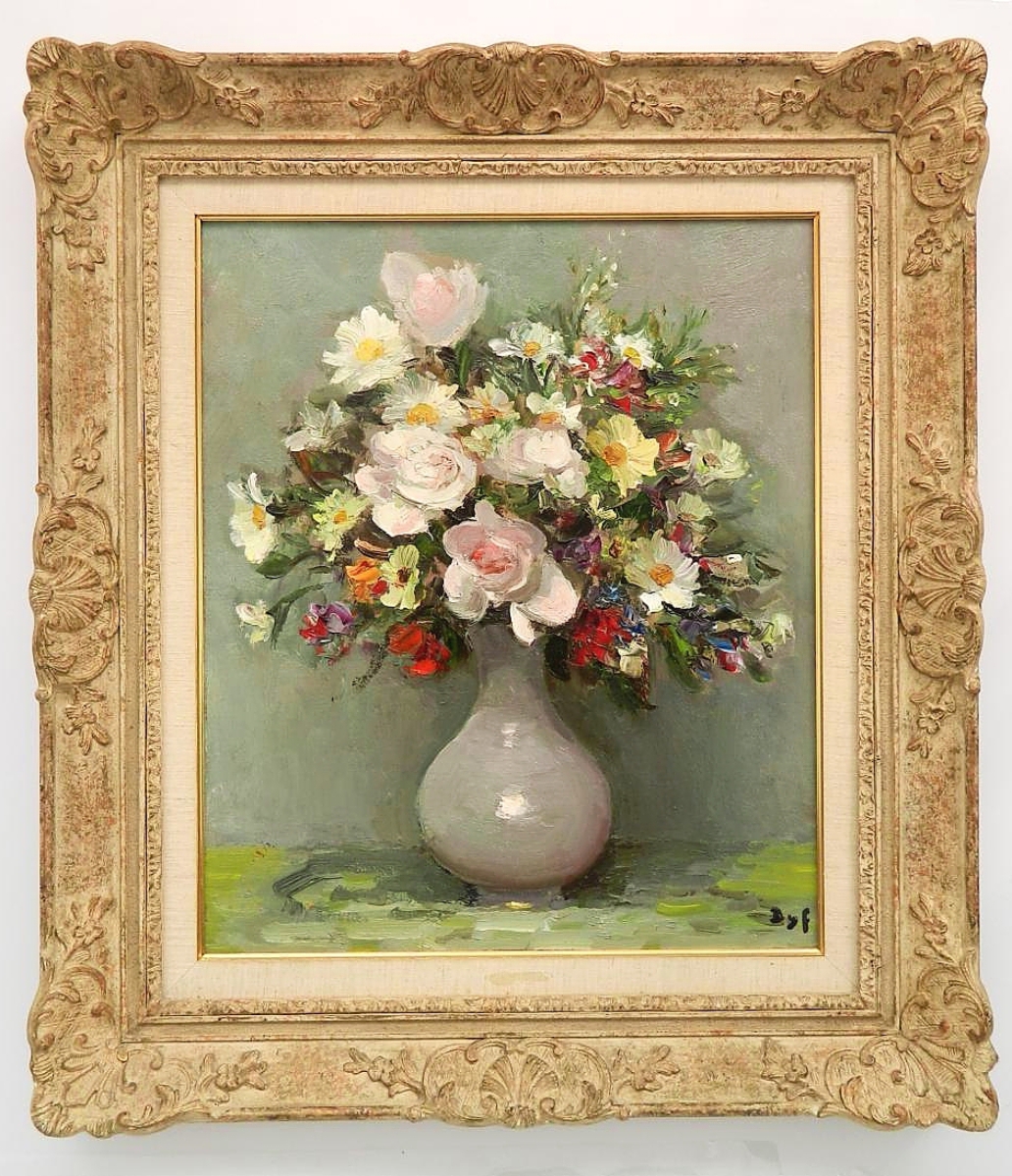 There were two works by Marcl Dyf (French, 1899-1985) in the sale, both of which came from a Cleveland estate. "Roses and Marguerites," an oil on canvas that measured 21½ by 18 inches, brought the higher price of the two, $8,610. The other painting, a landscape titled "Poplar in Dordogne," brought $3,198. Both sold to the same trade buyer in London ($2/4,000).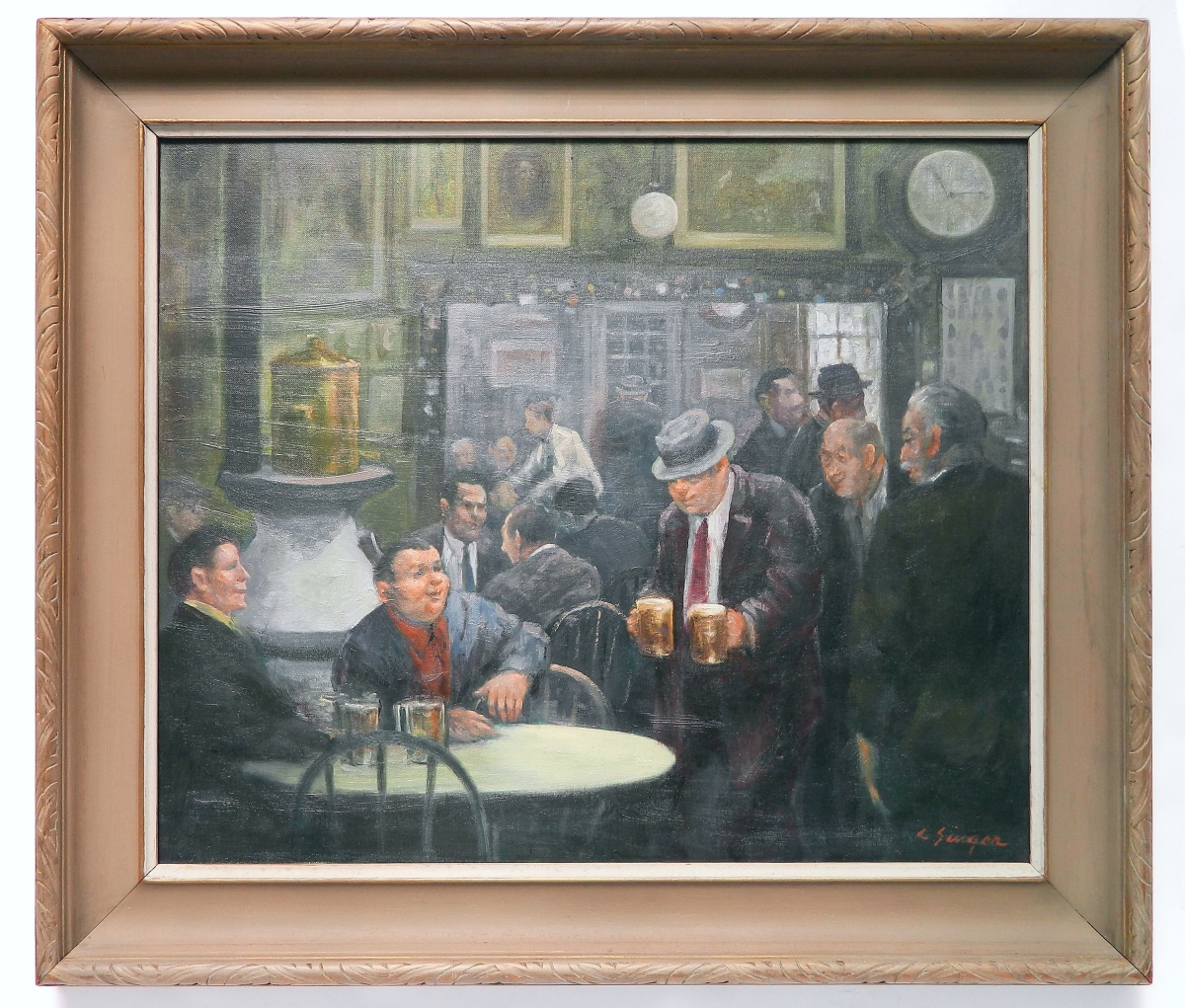 "McSorley's Group," done by Clyde Singer in 1965, had been in the collection of Richard Robinson. It sold to a buyer in Ohio for $8,750 ($ ,000).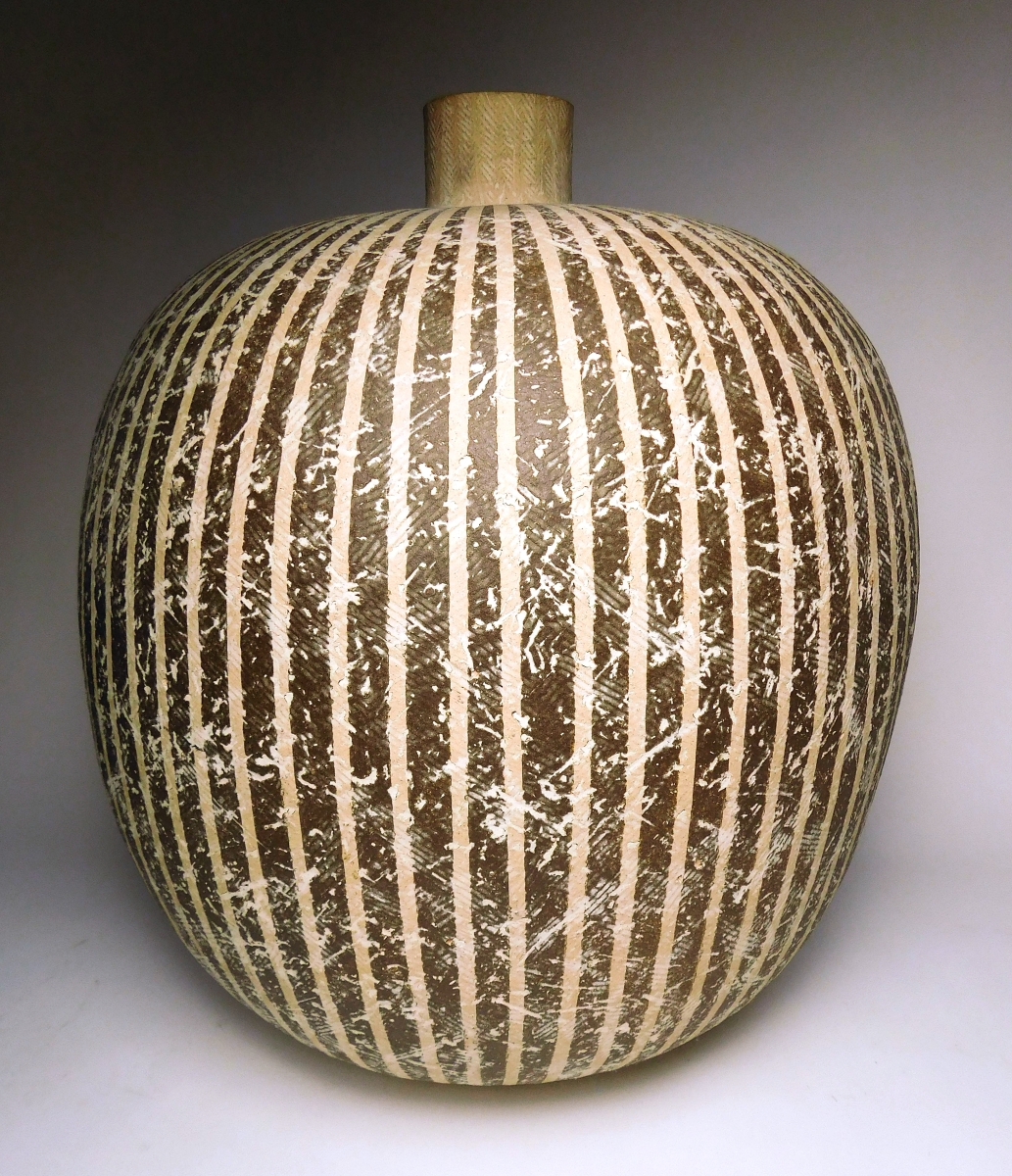 "Tzin" by Claude Conover measured 19 inches high and 16 inches diameter. At $8,610, it was the highest price realized for three vessels in the sale, all of which were bought by a trade dealer in New York ($5/7,000).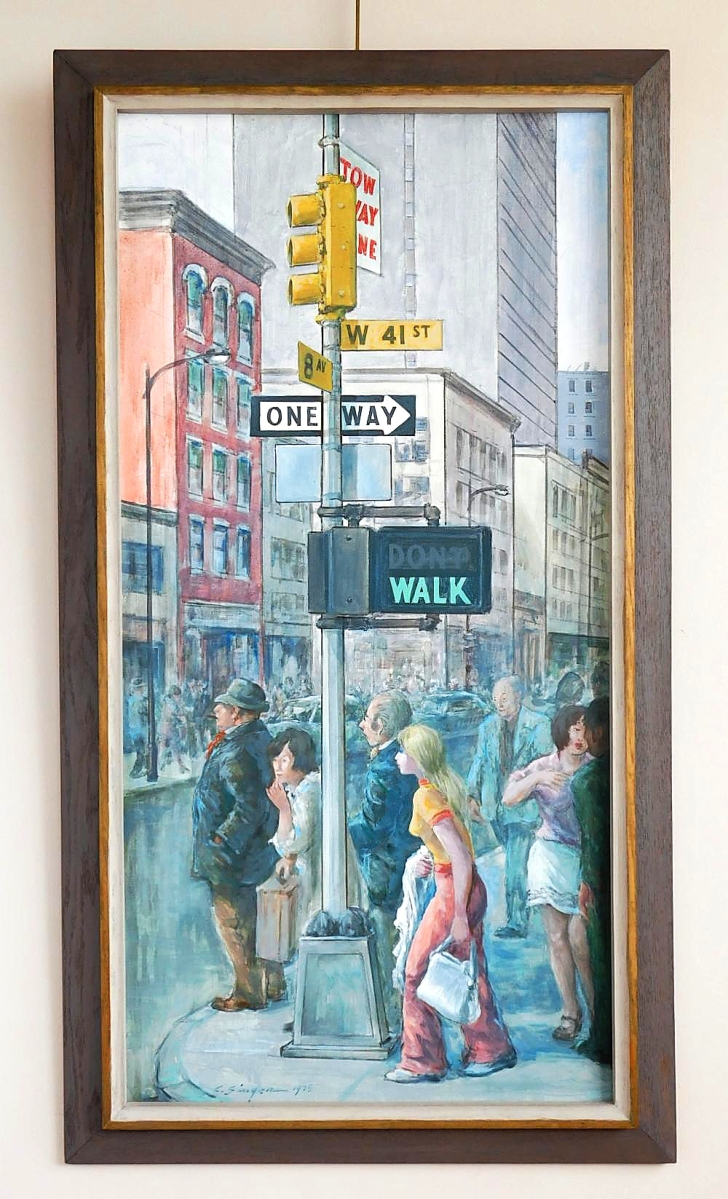 "Pedestrian Corner" by Clyde Singer had been acquired from the artist by Sara Schneider, who championed the arts in Canton, Ohio. The 1975 acrylic on panel work measured 41 by 20½ inches and sold to a buyer in Ohio, for $6,150 ($ ,000).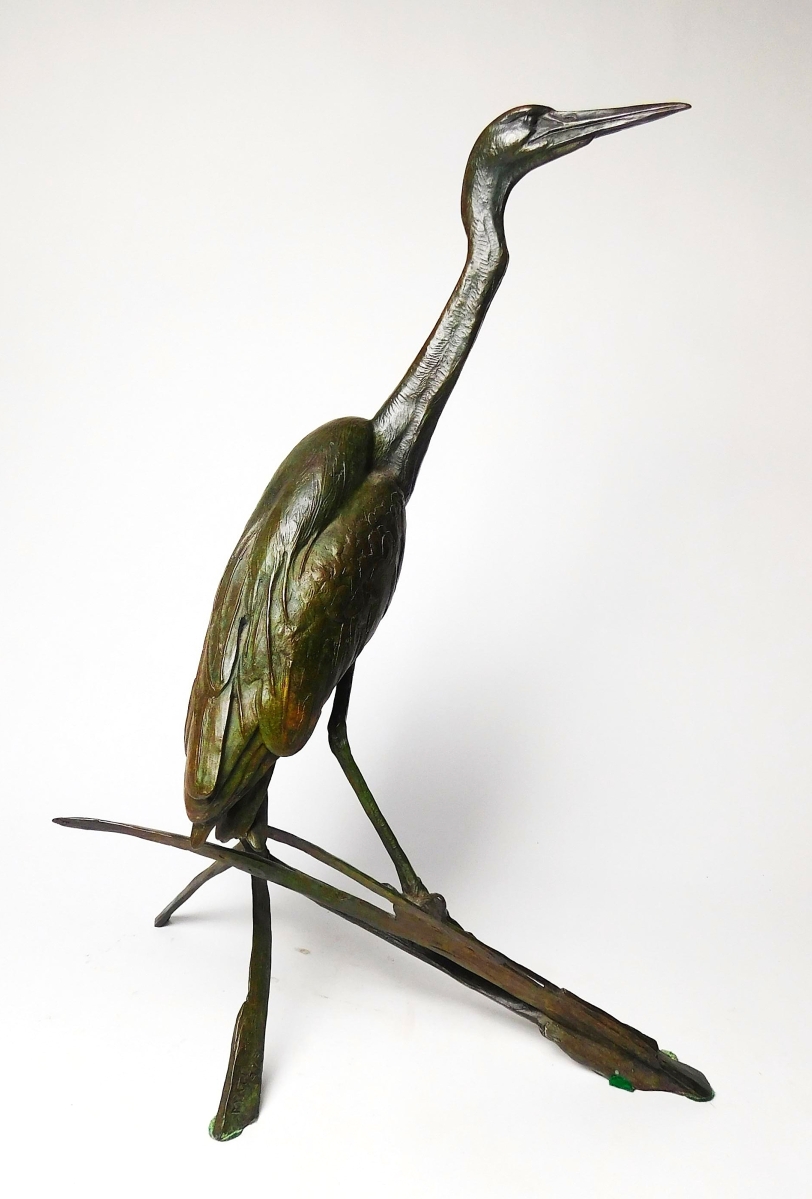 "Blue Heron" by Walter Matia (Ohio, b 1953) soared to $6,150. The 18-inch-tall bronze will migrate from a private collection in Cleveland to its new home in Florida ($1,5/2,500).
Illinois-based artist Art Frahm (1907-1981) is known for his pin-up illustration. "Oh What a Beautiful Morning," done in 1951 in oil on canvas, measured 30 by 23 inches and sold for $4,920 ($3/5,000).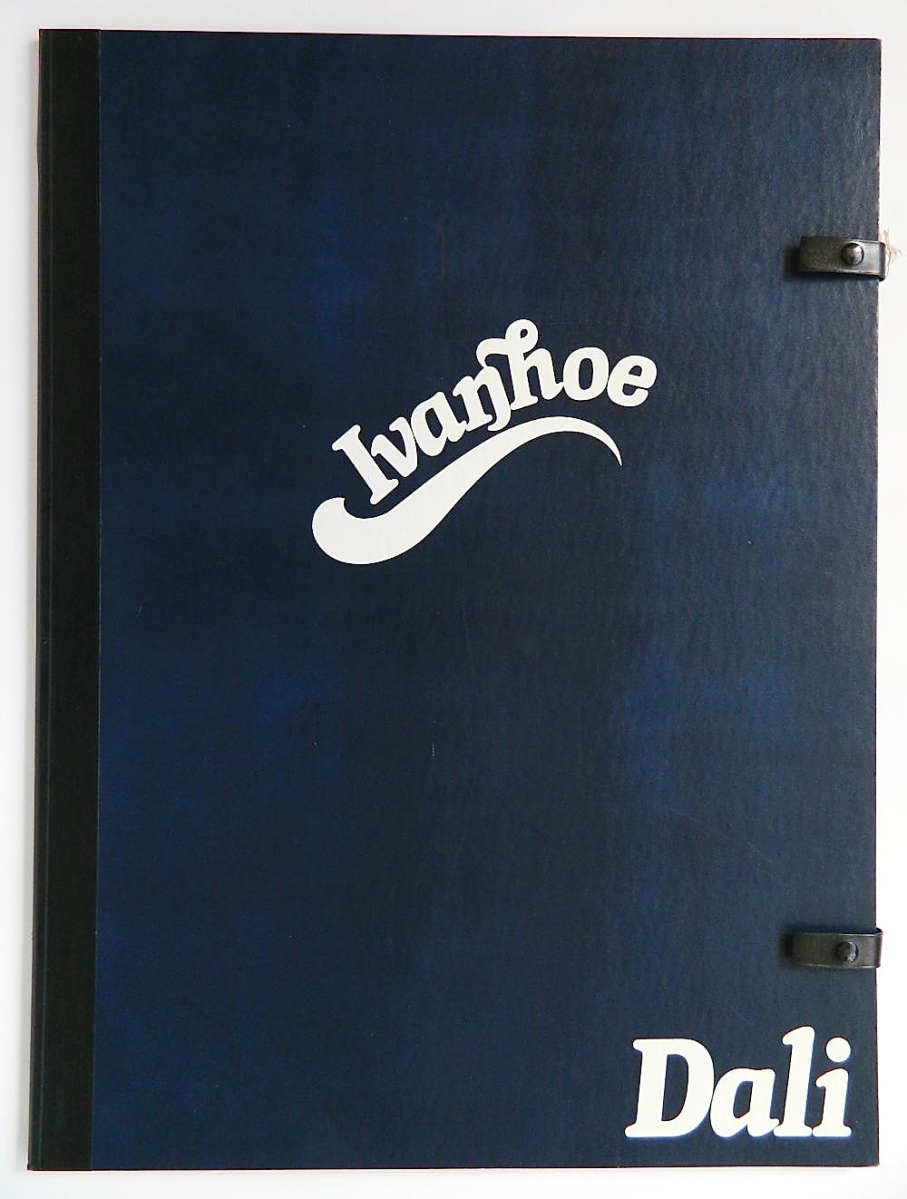 A New York buyer paid $4,920 for Salvador Dali's (Spanish, 1904-1989) "Ivanhoe" suite of four lithographs ($1,5/2,500).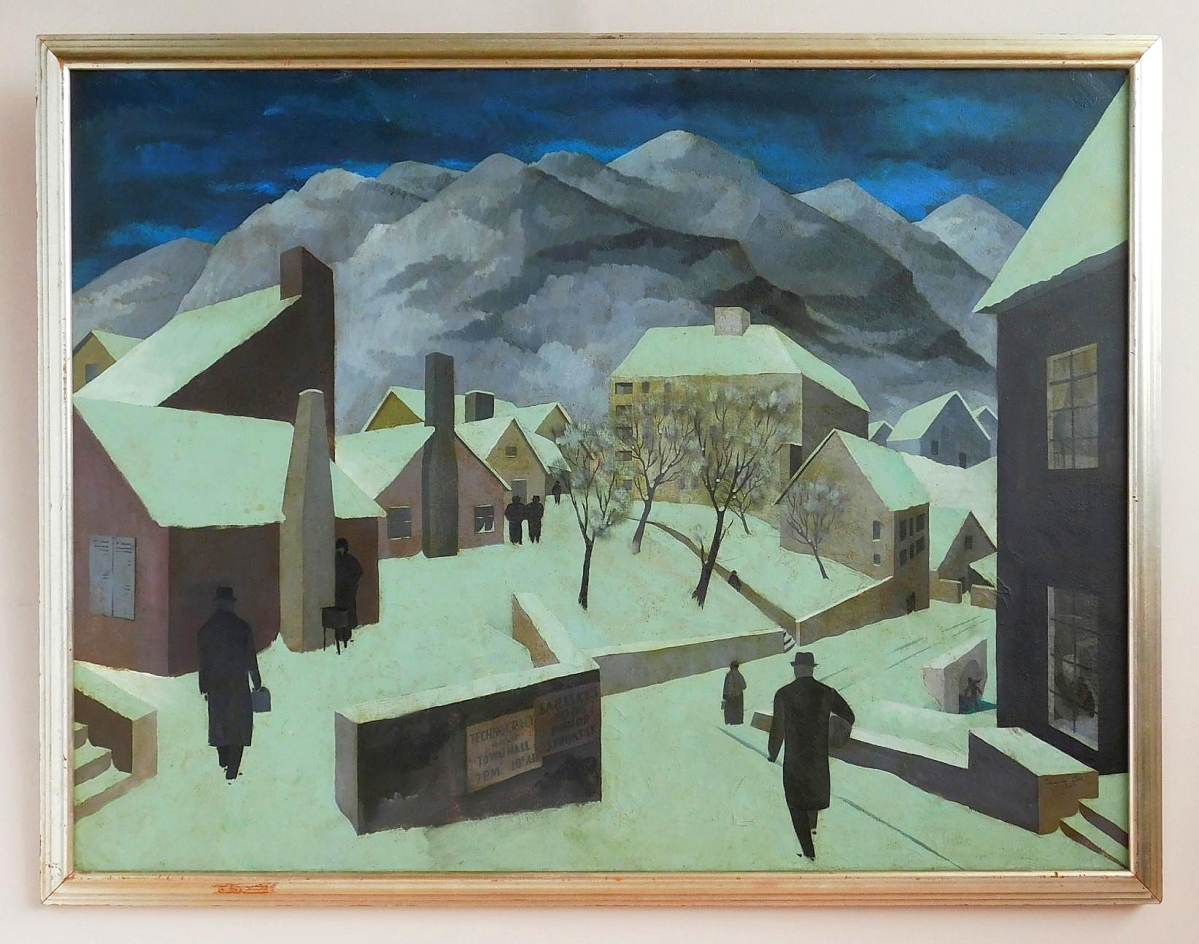 "I liked the painting; it was one of my favorites," Davis said of "December" by Charles Coe (Ohio, 1902-1964). It attracted interest from several bidders, selling to a collector in Chicago for $4,613. That price sets a new record for the artist ($ ,000).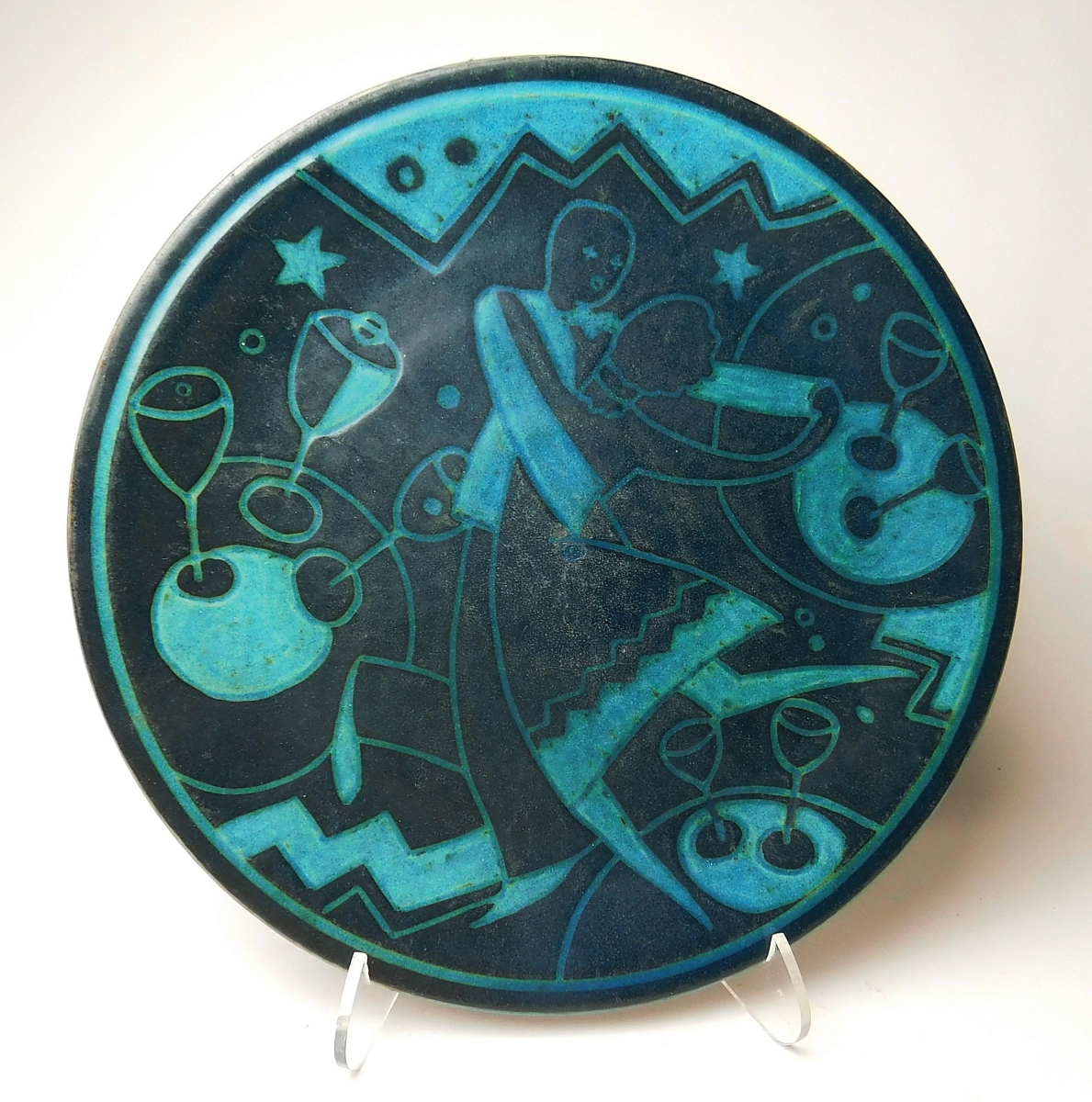 A Cleveland collector paid $4,613 for Viktor Shreckengost's "Danse Moderne" cast slip plate with black slip on white body that had been made in 1931 for Cowan Pottery. It measured 11 inches in diameter and had a glaze flaw that kept the result within estimate ($3/5,000).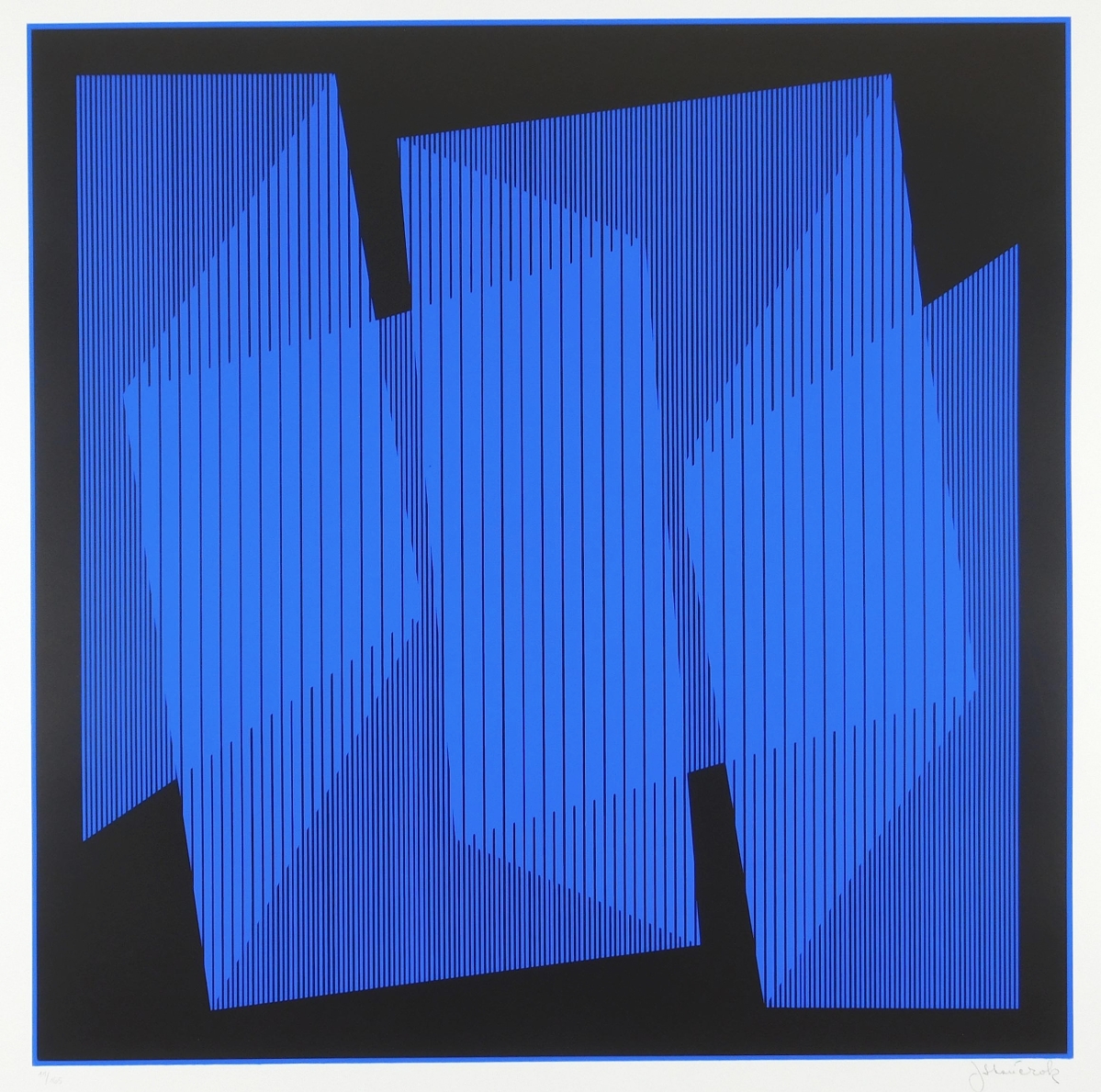 Polish born Julian Stanczak (1928-2017) moved to Ohio and was known for Op art and colorist painting. "Blue Cut-Out Fold," a serigraph in two colors, was from an edition of 165 and brought $3,321 ($1,2/1,800).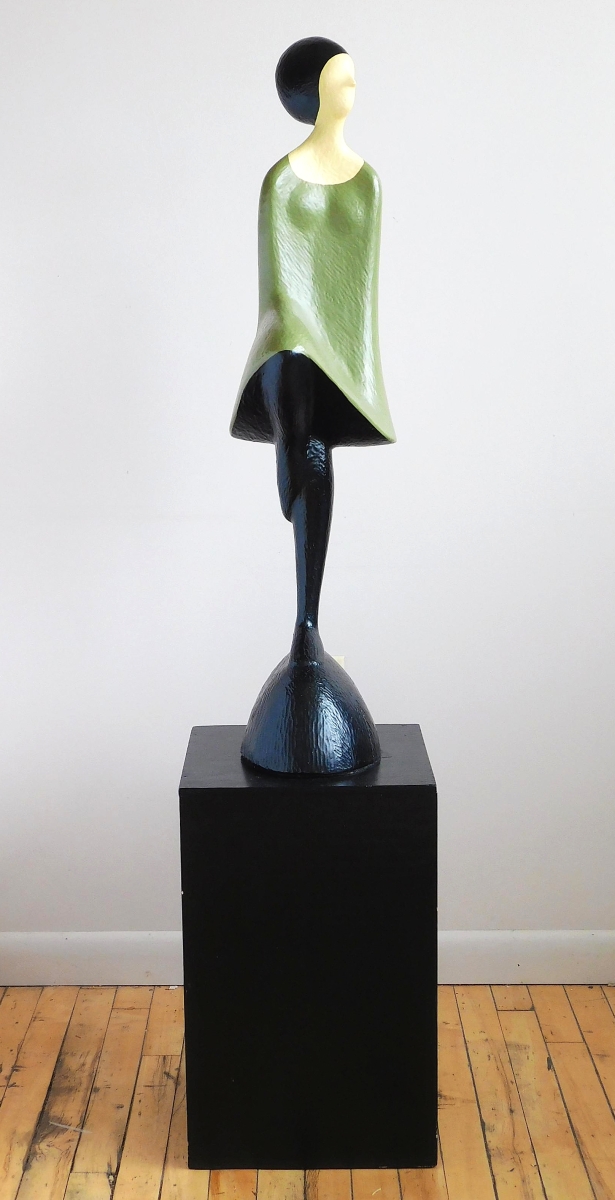 "Study for Standing Woman – One Leg" by David Hostetler came from a Columbus collection and was acquired by a Cleveland collector, for $3,321 ($ ,000).
"Mount Hood, Sunset" by Eliza Barchus (American, 1857-1959) typifies the work of the mountain landscape painter. It exceeded expectations, bringing $3,075 ($1,5/2,500).