A leader of a major report on sexual misconduct explains how to make science accessible to everyone
Sexual harassment is more prevalent in academia than in any sector of society except the military. According to a groundbreaking June 2018 report by the National Academies of Sciences, Engineering, and Medicine, harassment hurts individuals, diminishes the pool of scientific talent and ultimately damages the integrity of science itself. To understand the problem and how best to tackle it, a committee of 21 experts spent two years surveying existing data and commissioning new research. Paula Johnson, president of Wellesley College and co-chair of the committee behind the report, hopes its recommendations will fall on ears ready and willing to heed its advice. Scientific American spoke to Johnson about how to move forward. An edited transcript of the conversation follows.
Having trouble accessing this article? Please visit our FAQ page for more information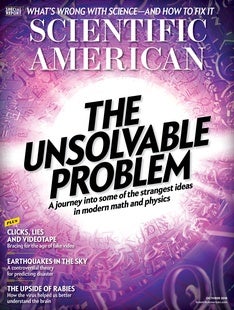 Support Science Journalism
Discover world-changing science. Explore our digital archive back to 1845, including articles by more than 150 Nobel Prize winners.