Amy Schumer is saying sorry for an Instagram post gone wrong. 
Earlier this week, the comedian used a photo from Hilaria Baldwin's personal Instagram account, which showed the author and mother of five cradling her newborn son, Eduardo. 
Schumer reposted the picture on her own account and jokingly passed off the photo as her own, something she's done in the past (like using photos of Meghan Markle and Prince Harry for her own pregnancy announcement). 
"Gene and I wanted to wish everyone a happy holiday season," Schumer captioned the since-deleted picture, pretending it was herself with her own son, Gene. "Enjoy it with whatever family members are talking to you this year." 
But Baldwin said she wasn't in on the joke. 
The yoga instructor reposted a screen shot of Schumer's post and said she "literally had to have someone explain this joke to me." 
"Still don't get it 100%," Baldwin said on an Instagram story, adding that she'll still like the post and "comment some emojis."
Baldwin then followed up on Tuesday by posting a nearly five-minute video taking aim at body-shamers who she said were trolling her on Schumer's post. 
"After many people reached out to me, I decided to respond to the whole photo with Edu being made into a joke thing," she captioned the clip. "Love a good joke-don't think this should have been such a big deal. I'm still 50/50 on whether I should respond, butas we see, I decided to. I'm an advocate for body positivity and inclusivity…which, let's all remember, includes everyone."
In the video, Baldwin said that the problem was that sometimes people "put down people's shapes."
"If you're doing body inclusivity ― that's body inclusivity for all," she added. "There's that whole thing of 'oh moms don't look like that.' Some moms do. This mom does. And I am included in the inclusivity."
"I do look a certain way. This is what I look like," the wellness expert said later in the video, adding that she comes "from smaller people" and has "been a fitness person my entire life."
Schumer deleted her post, liked Baldwin's video, and wrote "I'm sorry!" in the comments.
But the yogi insisted that Schumer wasn't the problem and didn't need to apologize. 
″@amyschumer Girl, don't even apologize! You always make me laugh 💛," she wrote. "My only intentions were to address some of the the not so namaste behavior some people went running wild with after. You don't need to take responsibility for their actions💜💜. Much love and light xoxo."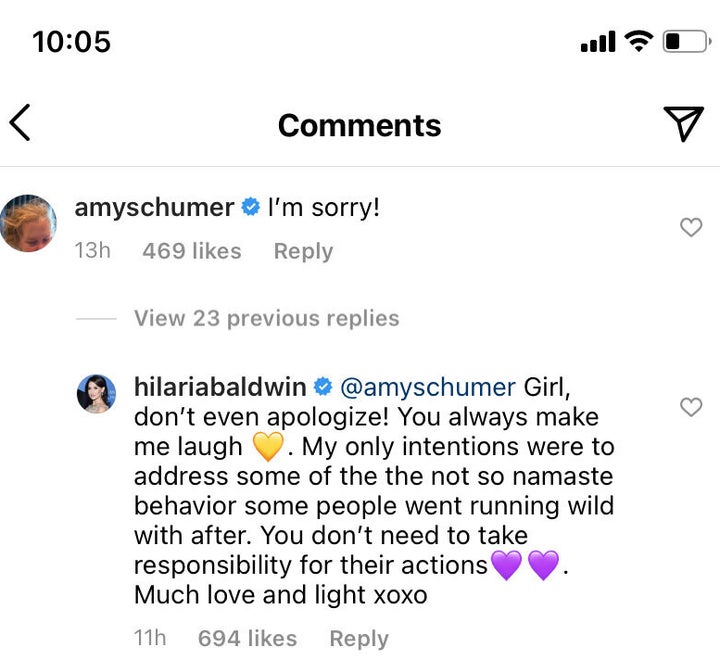 In another message on her Instagram stories on Tuesday, Baldwin reiterated that Schumer didn't offend. 
"Last thing, I just wanted to make sure that it was really clear, I thought Amy was really funny. And again, I didn't get it 100%," Baldwin wrote, tagging Schumer and and adding "xoxo." 
"I thought the joke was very funny ― I don't think she was making fun of me," she added. "I think she was just being silly and the problem was what other people did with that." 
Calling all HuffPost superfans!
Sign up for membership to become a founding member and help shape HuffPost's next chapter